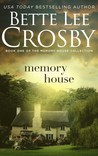 Memory House
by
Bette Lee Crosby
My rating:
4 of 5 stars
Annie Cross is running away from her bad memories of her ex-boyfriend, Michael, and looking for a new direction in life. Ophelia Browne is searching for someone to inherit her memories and her house. In her signature style, Crosby weaves these two very separate lives into a single story, with each chapter prefaced by the thoughts/journal of the main protagonists.
Crosby retains her charming Southern voice in Memory House and it was a pleasure to get sucked into the story. I enjoyed Memory House more than the other Crosby works I've read so far (
Passing Through Perfect
;
Spare Change
) probably because it felt a little more current and relatable to me.
It was also pretty amusing and nice to find references to the earlier books in Memory House, hidden as they are like gems to be found.
*I received a free copy of this book from the author in exchange for an honest review.
View all my reviews