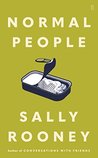 Normal People
by
Sally Rooney
My rating:
2 of 5 stars
Disclaimer here: I would not normally ever, EVER pick up this book on my own. I'm only reading it because it's on my MA reading list.
First up: UGH PUNCTUATION. I hate this no-quotation-marks style. Hated it when Cormac McCarthy used it, hate it now. I know it's a stylistic thing, but... well, I guess I'll just say it's not a style I like.
Normal People is a story of abuse. It's the story of Marianne who goes from terrible relationship to terrible relationship and allows herself to be abused because it's all she's ever known. In a way, it's gripping because you just want Marianne to get out of this, get out of all this crap she's living with, but she just goes from bad to worse. Everything in her life is tied around Connell and his acceptance/rejection of her, and it's ridiculous because even though he doesn't actually hit her or anything, it's obvious (to me, at least) that he's an oblivious idiot who is obviously using Marianne for his own benefit. It's not to say that she didn't get anything out of it--she did--but if this is what relationships are like in the 21st century, I'm glad I'm not in one. Maybe I'm too prudish for this book. Marianne has a warped idea of "submission" and part of the story veers into something BDSM-like relationships, except Marianne did not seem to like it very much, even if she somehow craved it.
On the other side, it also explores Connell's anxiety and depression, and how desperately he needs Marianne in his life to make him feel normal and in control, even though he's seeing/dating other people. It's just... messed up.
The shifting timelines--each chapter jumps a few months, and then hops back a little to cover important missed events--was sometimes a little confusing. The constant segueing between present tense and past tense feels fluid at times, but awkward at times. Maybe I'm not a very close reader but with all the jumps, it gives the book a very floating/fluid feel, and I sometimes don't really know
when
it is anymore.
All in all, Normal People is a dark, stark look at relationships and youth in Ireland.
I guess the writing is good and all, I just didn't like the subject matter very much.
My Year of Rest and Relaxation
by
Ottessa Moshfegh
My rating:
2 of 5 stars
Disclaimer: Also read as part of my MA reading list.
This is a depressing book about depression and addiction to drugs. Protagonist (what's her name? I forget) is running away from her perfect life (where she has all the privileges in the world) because she is depressed and her parents died and she never got any love from them.
I don't know what to say about this except that it's a bleak, dreary world and I fell asleep halfway through, but I finished it anyway.
It wasn't so much "rest and relaxation" as it was "drugged stupor." Well, to each their own?
View all my reviews