I had some time (not really) so I decided to do
this
. I found it off one of the blogs I've been following sporadically, and since my
"to read" shelf on Goodreads
now stands at 432, it might be time to pare it down a little.
So yeah, it works like this:
Go to your goodreads to-read shelf.
Order on ascending date added.
Take the first 5 (or 10 (or even more!) if you're feeling adventurous) books. Of course if you do this weekly, you start where you left off the last time.
Read the synopses of the books
Decide: keep it or should it go?
--- ONE ---
Slaughterhouse-Five
by
Kurt Vonnegut
Kurt Vonnegut's absurdist classic Slaughterhouse-Five introduces us to Billy Pilgrim, a man who becomes unstuck in time after he is abducted by aliens from the planet Tralfamadore. In a plot-scrambling display of virtuosity, we follow Pilgrim simultaneously through all phases of his life, concentrating on his (and Vonnegut's) shattering experience as an American prisoner of war who witnesses the firebombing of Dresden.
Slaughterhouse-Five is supposed to be famous. Ratings are high, at 4.06/5. Robin Hobb and Lynn Flewelling rated it at 5 & 4 stars respectively, so I probably should give it a go.
Verdict
: Keep, assuming I find a copy sometime somewhere.
--- TWO---


Introducing one of the most famous characters in literature, Jean Valjean—the noble peasant imprisoned for stealing a loaf of bread—Les Misérables ranks among the greatest novels of all time. In it, Victor Hugo takes readers deep into the Parisian underworld, immerses them in a battle between good and evil, and carries them to the barricades during the uprising of 1832 with a breathtaking realism that is unsurpassed in modern prose. Within his dramatic story are themes that capture the intellect and the emotions: crime and punishment, the relentless persecution of Valjean by Inspector Javert, the desperation of the prostitute Fantine, the amorality of the rogue Thénardier, and the universal desire to escape the prisons of our own minds. Les Misérables gave Victor Hugo a canvas upon which he portrayed his criticism of the French political and judicial systems, but the portrait that resulted is larger than life, epic in scope—an extravagant spectacle that dazzles the senses even as it touches the heart.

I actually started this before but got distracted halfway. I think I was ultimately bored by long descriptions of war and soldiers going to battle. At any rate, I've watched the musical.
Verdict: Delete.


Here lives an orphaned ward named Lyra Belacqua, whose carefree life among the scholars at Oxford's Jordan College is shattered by the arrival of two powerful visitors. First, her fearsome uncle, Lord Asriel, appears with evidence of mystery and danger in the far North, including photographs of a mysterious celestial phenomenon called Dust and the dim outline of a city suspended in the Aurora Borealis that he suspects is part of an alternate universe. He leaves Lyra in the care of Mrs. Coulter, an enigmatic scholar and explorer who offers to give Lyra the attention her uncle has long refused her. In this multilayered narrative, however, nothing is as it seems. Lyra sets out for the top of the world in search of her kidnapped playmate, Roger, bearing a rare truth-telling instrument, the alethiometer. All around her children are disappearing—victims of so-called "Gobblers"—and being used as subjects in terrible experiments that separate humans from their daemons, creatures that reflect each person's inner being. And somehow, both Lord Asriel and Mrs. Coulter are involved.

I initially wanted to read this because it was supposed to be written as an antithesis to the Narnia series. Reading the synopsis doesn't make it sound very enticing... but I already have the books (all three).
Verdict: Keep, only because I already have the books so I might as well read them.



The Princess Bride
by
William Goldman
What happens when the most beautiful girl in the world marries the handsomest prince of all time and he turns out to be...well...a lot less than the man of her dreams? As a boy, William Goldman claims, he loved to hear his father read the S. Morgenstern classic, The Princess Bride. But as a grown-up he discovered that the boring parts were left out of good old Dad's recitation, and only the "good parts" reached his ears. Now Goldman does Dad one better. He's reconstructed the "Good Parts Version" to delight wise kids and wide-eyed grownups everywhere. What's it about? Fencing. Fighting. True Love. Strong Hate. Harsh Revenge. A Few Giants. Lots of Bad Men. Lots of Good Men. Five or Six Beautiful Women. Beasties Monstrous and Gentle. Some Swell Escapes and Captures. Death, Lies, Truth, Miracles, and a Little Sex. In short, it's about everything.
This is a classic. EVERYONE QUOTES IT. I've watched the movie, which was wonderful. The book can only be better, right?
Verdict
: Keep.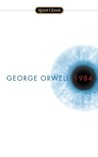 1984
by
George Orwell
Among the seminal texts of the 20th century, Nineteen Eighty-Four is a rare work that grows more haunting as its futuristic purgatory becomes more real. Published in 1949, the book offers political satirist George Orwell's nightmare vision of a totalitarian, bureaucratic world and one poor stiff's attempt to find individuality. The brilliance of the novel is Orwell's prescience of modern life--the ubiquity of television, the distortion of the language--and his ability to construct such a thorough version of hell. Required reading for students since it was published, it ranks among the most terrifying novels ever written.
Another book that everyone quotes. I have this strange sense of knowing too much about it that I can't tell if it's second-hand knowledge or if it's from actually having read the book. In a way, it sounds like something I would read, but it's also from that era where I find most of the stuff hard to get through. So I don't know.
Verdict
: undecided.
---
Well, that's five!
... I'm not very good at deleting books off my TBR, am I?